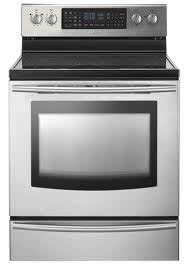 Oven repair requires extensive training and knowledge that is why trying to fix these appliances yourself can be dangerous. Allow our professionals to take the worry out of getting your oven repaired quickly and effectively.
Here are some of the problems we encounter most often with oven repair:
• Defective wiring in your Kenmore Oven, requiring replacing or repair
• Repair the heating element in your Oven due to oven has stopped working
• Viking Oven's self-clean cycle is no longer working
• The temperature in your Thermador Oven is not calibrated correctly
• Your Whirlpool Oven bakes unevenly
• The broiling element on your Kenmore Oven is not working correctly
• The drip pan in your GE Oven is out of date
• Inability to change the temperature of the burner on your Viking Oven
• Your Thermador Oven is not getting enough heat
• The timer on your Whirlpool Oven is not working
• The lamp in your Kenmore Oven is malfunctioning
• The door on your GE Oven is broken (either won't open or won't close)
• Your Viking Oven is dangerously hot to the touch
• Your Thermador Oven is continuous Sparking!
• Your Whirlpool Oven has broken down and is not usable
Any of these oven problems can be fixed, no problem! We can come to your home at your convenience and get your oven repaired fast! We can also help you with regular maintenance on your oven or stove to extend the life of the appliance and save you money. So if you have a major problem that needs immediate attention or you just need regular oven maintenance, give us a call at (410) 715-7506. We can make you an appointment as soon as possible.
We provide oven repair, stove repair, and services on
Amana oven – Bosch oven – Dacor oven – Electrolux oven – Fisher & Paykel oven – Frigidaire oven – GE oven – Hotpoint oven – Jenn Air oven – Kenmore oven – Kitchenaid oven – Lg oven – Magic Chef oven – Maytag oven – Miele oven – Samsung oven – Tappan oven – Whirlpool oven, and more